Curried Stone Crab Claws with Hot Marmalade Dip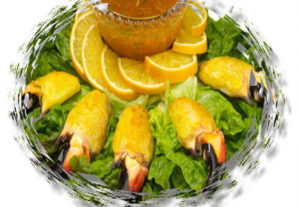 2 1/2 pounds Florida stone crab claws
1/2 cup butter, softened
1 teaspoon curry powder
1/3 cup orange marmalade
1/4 cup lime juice
1/4 cup soy sauce
1 clove Florida garlic, minced
1/2 teaspoon ginger
1 teaspoon cornstarch
Crack and remove outer shell from the claws, leaving meat attached to the moveable pincer that is on one side of the claw.
Cream together margarine and curry powder.
Spread curry butter over both sides of frozen stone crab claws; arrange on broiling pan. In the meantime, combine remaining ingredients, mixing well.
Cook, stirring constantly, until clear and thickened; keep warm.
Place broiler pan with the crab claws about 3-inches from heat source and broil 6-8 minutes, turning once, or until hot.
Serve with hot marmalade dip.
---
Jamaican Seafood Soup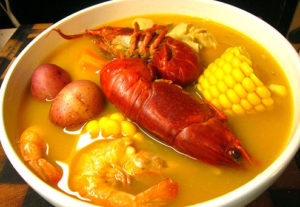 Ingredients:
2 slices apple-smoked or regular bacon, chopped
1/2 cup diced onion
1/2 cup diced celery
1/2 cup diced leeks
2 Tbsp. brown sugar
1 Tbsp. Jamaican jerk seasoning
Pinch cayenne pepper
2 cups fish stock
1 pound plum tomatoes, diced
2 Tbsp. minced tarragon
Salt
1-2 Tbsp. butter
3 ounces medium shrimp, peeled, deveined and coarsely chopped
3 ounces snapper, mahi-mahi or grouper, coarsely chopped
3 ounces stone crab meat or other crab, flaked
Small croutons, for garnish (optional)
Sliced green onions, for garnish (optional)
Instructions:
In a large saucepan, cook the bacon until lightly crisped. Add the onions, celery and leeks and cook over medium-low heat until translucent, 10 to15 minutes. Add the brown sugar and cook 3 minutes longer. Stir in the jerk seasoning and cayenne. Cook, stirring, for 1 minute, then add the fish stock and tomatoes. Bring just to a boil, then lower the heat and simmer uncovered for 30 minutes. Add the tarragon and salt to taste; cover to keep hot.
Heat the butter in a medium skillet, add the shrimp and fish and cook over medium heat until just opaque through. Add the crab and stir gently until heated.
Distribute the seafood among shallow soup bowls. Ladle the hot soup base over and garnish with croutons and green onions, if desired.
---
Stone Crab Claw Recipes (Serves 4-6)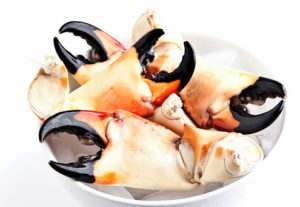 6 pounds, cooked stone crab claws
4 cups, crushed ice
8 lemon or lime wedges
8 ounces (2 sticks), salted butter – melted
Joe's Stone Crab Mustard Sauce (*Recipe below)
1. Crack the stone crab claws well. Pound them with a wide-headed mallet, lead pipe, or rolling pin, starting at the knuckle, working toward the claw. (I like to cover the claws with an old dish towel when cracking to keep bits of shell from flying all over the kitchen.) If you'd rather not crack the claws yourself, have the fishmonger do it.
2. Mound the ice on a large platter. Arrange the cracked stone crab claws on top. Garnish the platter with the lemon wedges.
3. Provide each guest with small dishes of melted butter and Mustard Sauce, plus a bowl for holding the empty shells. Dip the nuggets of crab in melted butter or mustard sauce. Or, for an even more luxurious taste treat, dip them first in butter, then in mustard sauce, and then pop them into your mouth!
Ingredients:
The Famous "Joe's Stone Crab Restaurant" Mustard Sauce
3 1/2 teaspoon dry English mustard
1 cup mayonnaise
2 teaspoon Worcestershire sauce
1 teaspoon A-1 Steak Sauce
1/8 cup light cream
1/8 teaspoon salt
Instructions:
Blend the mustard and mayonnaise. Beat for about 1 minute. Add the remaining ingredients and beat until the mixture reaches a creamy consistency.
Yield: 1 cup
---
Hearts of Palm and Stone Crab Salad with Avocado-Buttermilk Dressing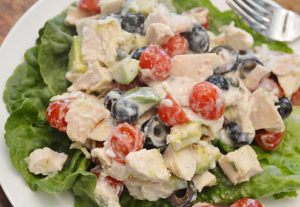 1 head Bibb lettuce, cored and leaves separated, washed and spun dry
2 vine-ripened tomatoes (about 4 ounces each), sliced
3/4 pound fresh hearts of palm, trimmed, poached, and cut into quarters lengthwise, or 1 (14-
ounce) can hearts of palm, rinsed and patted dry, cut into quarters lengthwise
3 pounds medium stone crab claws (about 20)
Avocado-Buttermilk Dressing, recipe follows
Overlap the lettuce leaves on each of 4 large plates. Fan out the sliced tomatoes in the center of the lettuce and arrange the hearts of palm spears in spokes. Place the stone crab claws in the center of the tomatoes and drizzle with the dressing to taste.
Avocado-Buttermilk Dressing:
1 medium firm-ripe avocado, peeled, seeded and cubed (tested with Haas)
2/3 cup buttermilk
1/4 cup sour cream
3 tablespoons grated sweet onions
2 1/2 tablespoons fresh lime juice
2 tablespoons olive oil
1 teaspoon minced garlic
1 teaspoon minced fresh dill
1/2 teaspoon salt
1/8 teaspoon cayenne
Combine all the ingredients in a blender and blend on high speed until smooth, scraping down the sides as needed. Adjust the seasoning, to taste.
Transfer to a bowl, cover, and refrigerate until ready to use. (The dressing can be made up to 4 hours in advance.)
Yield: 1 3/4 cups
Stone Crab Cobbler Recipe
Ingredients:
Freshly grated flesh of one whole coconut
3 cups boiling water
8 large stone-crab claws
2 tablespoons olive oil
2 large shallots, diced
4 medium tomatillos, diced
1 cup fresh corn
1 large Anaheim chile, diced
1 tablespoon coriander
1/2 teaspoon fresh ginger, chopped
1/2 teaspoon curry powder
3 tablespoons rum
3/4 cup coconut milk (see instructions below to make)
1 teaspoon salt
1 cup flour
1/4 teaspoon salt
1 teaspoon sugar
1-1/2 teaspoons baking powder
3 tablespoons butter
1 tablespoon key lime zest
1/2 cup coconut milk (see instructions below to make)
Instructions:
Combine the grated coconut and boiling water in a blender and puree for 2 minutes. Let the mixture stand for 15 minutes. Strain through a colander lined with cheesecloth. Twist the cheesecloth to extract as much liquid as possible. This is the coconut milk, you may freeze any extra.
To prepare the stone-crab mixture: Crack the stone-crab claws and remove all the meat from the shell and cartilage. In a medium saucepan, warm the olive oil and add the shallots until they turn translucent. Add the tomatillos, corn and Anaheim chile. Flavor with the coriander, ginger, curry, rum and 3/4 cup coconut milk. Add the crab meat. Simmer for 3 minutes and season with salt.
To prepare the cobbler top: In a stainless-steel bowl, mix the flour, salt, sugar, and baking powder. Stir in the softened butter until the mixture has a sandy consistency. Add the lime zest and coconut milk and stir until the batter binds together.
To bake the cobbler: Place the crab mixture in an oven dish. Top with dollops of the cobbler topping. Bake in a 350-degree F oven for 10 minutes or until the top is well browned. Serve immediately.
Shrimp Custard and Stone Crab Cake
2 whole eggs
1 egg yolk
4 oz. shrimps, peeled and deveined
8 oz. Stone Crab Meat
1 tbsp. olive oil
1 tbsp. chives finely chopped
1 tsp. Old Bay Seasoning
Salt and pepper to taste
1 cup heavy cream
How to Prepare the Key West Shrimp Custard:
Peel and clean the shrimps, place in a blender with the whole eggs, egg yolk, Old Bay, salt and pepper.
Blend to puree, add the cream and process until all blended. Taste and correct seasoning. Transfer to a bowl and place over ice.
How to Prepare the Stone Crab Cake:
Crack the claws lightly with a nut cracker, being careful not to crush the meat, remove the crab meat with your finger and set aside.
Add finely chopped chives, and fold the mixture into the shrimp custard in a small sauté pan over high heat.
Add olive oil, place a flan ring in the center, and place one spoon of the crab mixture into the ring to make a perfect circle.
Remove the ring and cook only on one side for two minutes over high heat.
Bake in a 350 degree oven for three to five minutes.
Remove from the oven and turn the stone crab over.